What Washington's Phased Reopening Means for Employers
By Krista Nelson Slosburg | Related Practice: Employment
Category: Covid-19
On Monday, May 4, 2020, Governor Inslee issued a new executive order that both adjusts and extends the previous Stay Home—Stay Healthy Order that was set to expire that same day. The Adjusted Order extends most prohibitions on non-essential activity until May 31, 2020 and sets out a four-phased approach to reopening the state. We are currently in Phase One of the plan and can expect at least three weeks between each phase to allow public health experts to assess whether transmission rates are manageable before advancing to the next phase of opening. Decisions on when to transition between phases will be made based on an assessment of COVID-19 activity in the state, health care system readiness, testing capacity and availability, contact investigations, and ability to protect high-risk populations.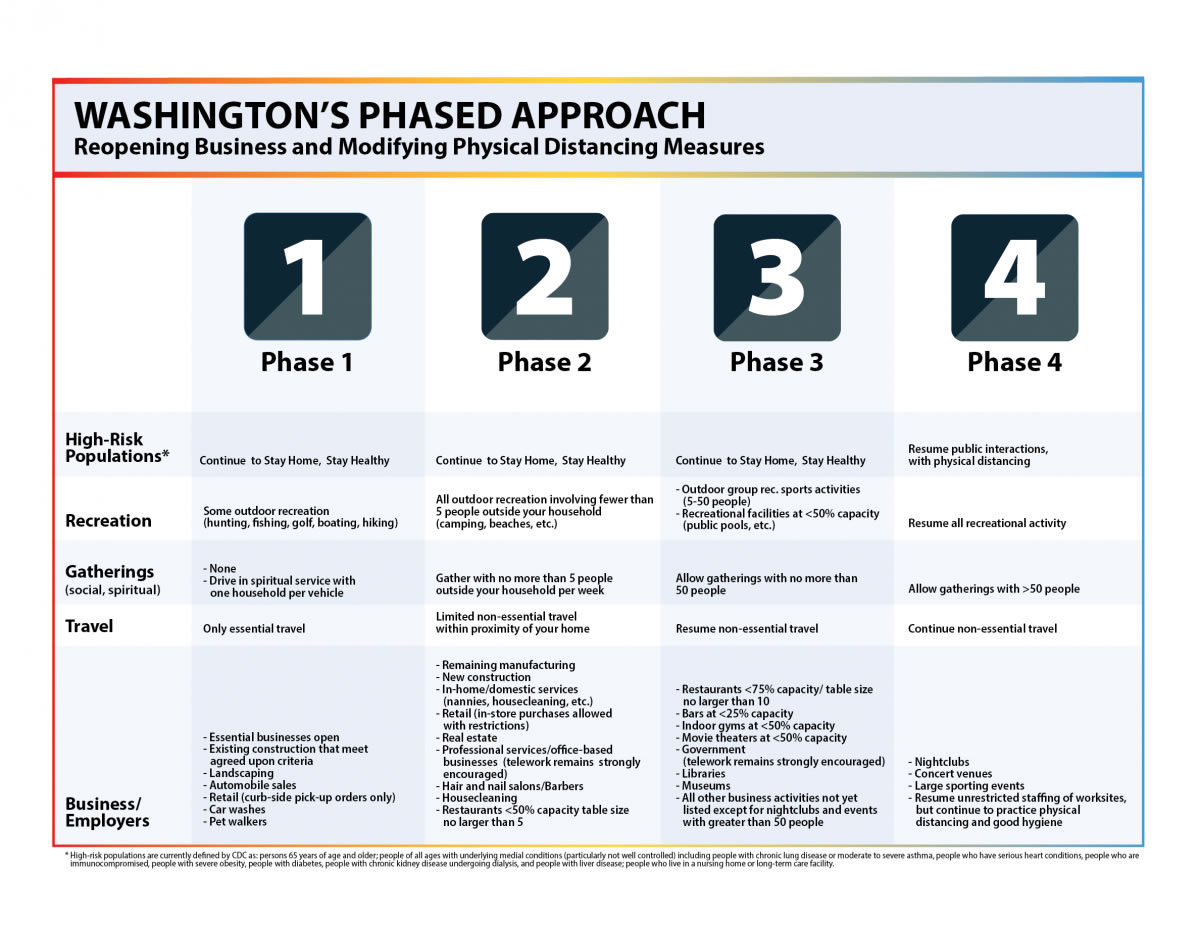 Is the Stay Home—Stay Healthy Order Still in Place?
During Phase One, the general principles of the Stay Home—Stay Healthy Order remain in place. The general prohibition of non-essential business, which we previously discussed here, is still in effect. Non-essential businesses must continue to suspend aspects of their business that cannot be performed through remote work, though they may continue to maintain basic minimum operations.
Essential businesses may remain open and employ the services of essential employees so long as proper social distancing and sanitation measures are put in place. Our earlier recommendations for essential businesses can be found here and here.
Are Certain Businesses Allowed to Resume Activities?
Over the past several weeks, the Governor has issued a series of formal guidance documents for specific industries, like real estate and construction, that allowed some low-risk industries to resume certain activities. The formal guidance for those industries remains in place, and those businesses are allowed to continue their limited activity so long as they are in compliance with the Governor's previously issued guidance.
The Adjusted Order adds additional low-risk business activities that will be allowed to reopen in the coming days, so long as businesses fully comply with industry-specific guidance. Those industries include (1) landscaping and lawn care; (2) vehicle and vessel sales; (3) pet walking; (4) curb-side pickup retail orders; and (5) car washes. The Governor has not yet issued the additional guidance for these specific industries, but intends to do so as soon as possible and no later than May 15, 2020. While the details of the guidance are yet to be seen, they will require compliance with Washington State Department of Health's social distancing and hygiene requirements.
Even after a business is permitted to reopen, the Governor's Order protecting high-risk workers remains in place, and employers must consider accommodations and benefit and job protections for those workers.
What Can We Expect in the Additional Phases of the Plan to Reopen?
Phase Two will allow professional services and office-based businesses to resume their operations, but telework will remain "strongly encouraged." Phase Two will also allow for additional business activities like reopening of hair and nail salons, in-store retail purchases with certain restrictions, and restaurants with no more than 50% capacity and table sizes no larger than five people.
Phase Three will allow all other business activities except for nightclubs and events with greater than 50 people, but will still encourage teleworking. Restaurants will be able to operate with no more than 75% capacity and table sizes no larger than 10 people, movie theaters to operate at no more than 50% capacity, and museums and libraries will be permitted to open.
Phase Four will allow employers to resume unrestricted staffing of worksites with continued social distancing and good hygiene practices. In addition, nightclubs, concert venues, and large sporting events will be able to resume.
Requirements for All Employers During All Phases
There are certain requirements for all employers that will continue from Phrase One through Phase Four. These requirements include the following:
• Maintain the 6-foot physical distancing requirements for employees and patrons. Adopt other prevention measures such as barriers to block sneezes and coughs when physical distancing is not possible for a particular job task.

• Provide services while limiting close interactions with patrons.

• Provide adequate sanitation and personal hygiene for workers, vendors, and patrons. Ensure employees have access to hand-washing facilities so they can wash their hands frequently with soap and running water.

• Ensure frequent cleaning and disinfection of the business, particularly of high-touch surfaces.

• Identify personal protective equipment (PPE) and cloth facial coverings in accordance with L&I requirements on facial coverings and industry specific COVID-19 standards. Provide the necessary PPE and supplies to employees.

• Identify strategies for addressing ill employees, which should include requiring COVID-19-positive employees to stay at home while infectious, and potentially restricting employees who were directly exposed to the COVID-19 positive employee. Follow CDC cleaning guidelines to deep clean after reports of an employee with suspected or confirmed COVID-19 illness. This may involve the closure of the business until the location can be properly disinfected.

• Educate employees about COVID-19 in a language they best understand. The education should include the signs, symptoms and risk factors associated with COVID-19 and how to prevent its spread.

• On a case-by-case basis, as directed by federal, state and local public health and workplace safety officials, implement other practices appropriate for specific types of businesses, such as screening of employees for illness and exposures upon work entry, requiring non-cash transactions, etc.

• Follow requirements in Governor Inslee's Proclamation 20-46 High-Risk Employees–Workers' Rights.

• Keep a safe and healthy facility in accordance with state and federal law, and comply with COVID-19 worksite-specific safety practices, as outlined in Governor Inslee's "Stay Home, Stay Healthy" Proclamation 20-25, and in accordance with the Washington State Department of Labor & Industries General Coronavirus Prevention Under Stay Home, Stay Healthy Order and the Washington State Department of Health Workplace and Employer Resources & Recommendations.

Employers should also develop a Safe Work Plan that covers workplace safety, support, and expectations for customers and visitors. A model checklist is available here.
For assistance navigating the Governor's Order or developing a Safe Work Plan, please contact a member of our Employment Group.