Overtime Pay for Agricultural Workers Comes to Washington State
By Aviva Kamm and Lance A. Pelletier | Related Practice: Employment
On May 11, 2021, Governor Inslee signed Senate Bill 5172. The bill prevents lawsuits for overtime pay against agricultural employers who had relied on the agricultural exemption in the past. It phases the agricultural exemption out gradually until January 1, 2024, when it will be eliminated entirely.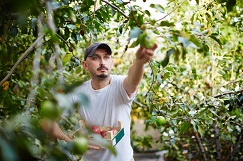 History of the legislation
On November 5, 2020, the Washington Supreme Court held the Minimum Wage Act's sixty-year-old agricultural exemption unconstitutional as applied to dairy workers at DeRuyter Bros. Dairy. Martinez-Cuevas v. DeRuyter Bros. Dairy, 196 Wn.2d 506, 475 P.3d 164 (Nov. 5, 2020). This means that DeRuyter Bros. Dairy could not rely on the agricultural exemption for its dairy workers and must instead pay those workers overtime. The decision left open the possibility that the exemption would be challenged as to other agricultural workers in other industries, such as the tree fruit and field crop industries. (Read more about that court ruling in our earlier article here.)

The Martinez-Cuevas decision did not answer the question of whether the court's ruling would apply retroactively. If a court were to allow retroactive claims, employees around the state might be able to claim unpaid wages for any overtime hours worked for up to three years before the ruling. Since employers had relied on the agricultural exemption and never budgeted for that expense, a retroactive application could have meant insolvency for many Washington farmers.
Retroactivity "safe harbor"
SB 5172 protects agricultural employers from paying retroactive damages for failing to pay overtime before the Martinez-Cuevas decision. This "safe harbor" provision protects agricultural and dairy employers from damages, statutory or civil penalties, attorneys' fees and costs, or other type of relief an employee seeks for overtime withheld under the agricultural exemption as it existed before Martinez-Cuevas. It applies to any claim, cause of action, or proceeding commenced after November 5, 2020.
Eliminating the agricultural overtime exemption
Under the Supreme Court's decision in Martinez-Cuevas, dairies should begin paying overtime wages immediately. SB 5172 also phases out the exemption for all other agricultural employers in three yearly steps:
| | |
| --- | --- |
| Effective Date | Overtime pay required for weekly hours exceeding this number |
| January 1, 2022 | 55 hours |
| January 1, 2023 | 48 hours |
| January 1, 2024 | 40 hours |
California has adopted a similar phase-out of the exemption, with farms with 26 or more employees phasing the exemption out completely by January 1, 2022, and smaller farms eliminating the exemption by January 1, 2025. President Biden's campaign also listed phasing out the federal agricultural exemption as a priority.

Farm advocates had hoped the bill would also include a seasonal exemption allowing individual farmers to raise the overtime threshold to 50 hours for 12 weeks of the year chosen by the farmer. This issue may be revisited when the legislature reconvenes, but is not a part of the law enacted.

Contact Sarah Wixson, Aviva Kamm, Michelle Mendoza, Lance Pelletier, Brendan Monahan or any member of Stokes Lawrence's Employment Group for help ensuring your agricultural operations comply with the new law.