Stokes Lawrence to Expand Litigation and Business Law Groups
Stokes Lawrence announced today that it will welcome nine attorneys from the Mills Meyers Swartling firm on September 1.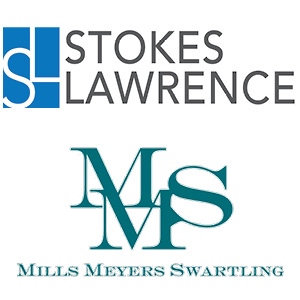 After September 1, Mills Meyers Swartling will no longer be offering legal services. The attorneys joining Stokes Lawrence will be part of the firm's highly regarded Litigation and Business practices.

The addition of the Mills Meyers Swartling attorneys will deepen the bench of Stokes Lawrence's legal team, offering it the ability to enhance its exceptional client service. In addition, several of the Mills Meyers Swartling attorneys are seasoned aviation attorneys, which will allow Stokes Lawrence to broaden its capabilities for aviation industry clients.

"We are delighted to add such an accomplished group of lawyers whose values align so well with our own," said Stokes Lawrence Managing Shareholder Kelly Twiss Noonan. "When we welcome new employees to our firm, it is important to us that they share our commitment to preserving the firm culture and providing outstanding legal service to our clients."

To Mills Meyers Swartling, Stokes Lawrence is an ideal platform for serving the civil litigation and corporate law boutique's roster of clients, which includes airlines, aircraft and auto manufacturers, major agricultural operations, real estate owners and businesses throughout the Pacific Northwest.

"We are thrilled to team up with a firm that is so like-minded and that has the bandwidth to meet the service demands of our sophisticated clients," said Caryn Geraghty Jorgensen, Managing Shareholder of Mills Meyers Swartling. "This move is a great opportunity for our team, particularly because both firms have similar cultures. We are progressive, diverse, and share a strong commitment to professional excellence and community service."

The match is notable in that both firms are led by female managing shareholders. With the addition of Caryn Jorgensen as shareholder, Stokes Lawrence will become 50% women-owned, which is unusual for a firm of this size.

"Stokes Lawrence and Mills Meyers have a long history of commitment to diversity," noted Kelly. "We are especially proud of our gender diversity and pleased that our firm demographics reflect that commitment."

The following Mills Meyers Swartling attorneys will transition to Stokes Lawrence on September 1:
Brett T. MacIntyre
Bruce Winchell
Caryn Geraghty Jorgensen
Eric W. Robinson
James K. Wilkens
John Fetters
Rachael R. Wallace
Raymond S. Weber
Samantha K. Pitsch
All but Wilkens, who is based in Anchorage, Alaska, will work in Stokes Lawrence's Seattle office.