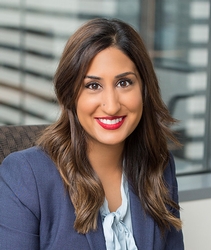 Serena Sayani
Of Counsel | Seattle
---
Overview
Serena's practice encompasses a vast range of real estate and related business transactions.
Her commercial real estate practice focuses on acquisitions, dispositions, development, construction and leasing. She has structured complex real estate transactions for office, hotel, retail, multifamily and industrial projects across the United States. Her clients include real estate investment trusts, public and private pension plans, tax-exempt investors, developers, and other businesses. She also has substantial experience in the negotiation of purchase and sale agreements, office and retail leases, and joint venture documents. In addition, she provides counsel to clients in multimillion-dollar development and construction transactions involving drafting and negotiating development, design, construction and other related agreements.
Serena has achieved accreditation from the U.S. Green Building Council (USGBC) as a LEED Green Associate in connection with sustainable development and operation of real estate projects. The LEED rating system is the nationally accepted benchmark for the design, constructions and operation of high-performance green buildings.
Serena regularly presents at legal education seminars on real estate development, construction and leasing.
Education & Admissions
Admissions
Education
New York Law School, J.D., magna cum laude (2005)
University of Western Ontario, B.A.C.S. (2002)
Recognition & Honors
Recognition & Honors
John Marshall Harlan Scholar & Recipient of Merit-Based Dean's Scholarship
Representative Work
Representative Work
Acquisition of $160 Million new construction apartment project in Washington, D.C.
Development of $65 Million apartment project in Pennsylvania
Lease of 75,000 square feet of office space to national credit tenant in San Francisco
Lease of 30,000 square feet of retail space for national retail chain in Los Angeles, California
Participating secured $78 Million loan for construction of office project in Seattle
Membership interest purchase and financing of $50 Million apartment portfolio in California and Washington
Publications & Presentations
Publications & Presentations
Youth and Justice Forum, panelist, Heritage University (2018)
"The Growing Importance of the 'Continuous Operations' Clause in Retail Leases," author, blog post, Stokes Law Briefs (December 2017)
Retrofitting Office Buildings to Be Green and Energy-Efficient, associate editor, Urban Land Institute (2009)
NBI Seminar, "Commercial Real Estate A to Z" (2016)
Client Seminar, "UBIT and REIT Leasing Considerations" (2016)
Client Seminar, "Structuring REIT Transactions" (2016)
NBI Seminar, "Analyzing Lease Issues in the Chain of Title" (2015)
Client Seminar, "Construction and Development Issues" (2014)
NBI Seminar, "Retail, Office and Restaurant Leases: Key Provisions and Warranties" (2013)
Professional & Community Activities
Professional & Community Activities
Member, Martin Luther King, Jr. Luncheon Committee, King County Bar Association
2018 CREW Mentor
University of Washington School of Law mock trial competitions, judge
Member of Commercial Real Estate Women
Attorney Mentor-Coach for Mercer Island High School Mock Trial Team
Background & Interests
Background & Interests
After graduating from law school, Serena was employed at Shulkin Hutton, where she worked with corporate and individual debtors involved in bankruptcy proceedings under Chapter 11 and Chapter 7 of the Bankruptcy Code. Prior to joining Stokes Lawrence, she was part of the Real Estate and Capital Markets group at McNaul Ebel Nawrot & Helgren.