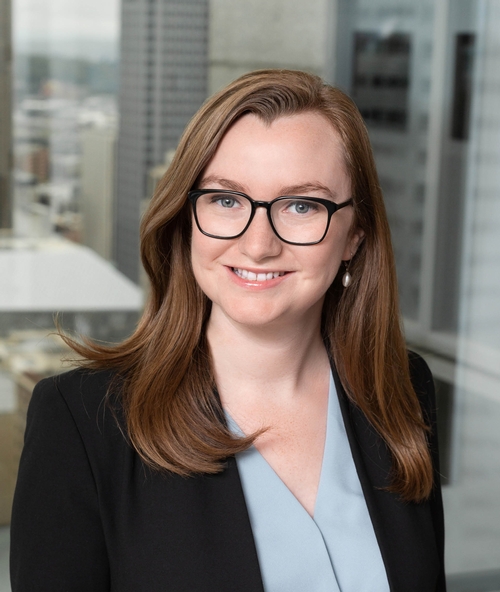 Maricarmen C. Perez-Vargas
Attorney | Seattle
---
Overview
Maricarmen assists both employer and employee clients with advice on federal and Washington employment law issues including discrimination, wrongful termination, noncompetition and nonsolicitation agreements, leave, and accommodations. She provides thoughtful advice and counsel to clients to avoid litigation, but when her clients are compelled to litigate, Maricarmen has the skills and proven record that results in favorable litigation outcomes for her clients.

Maricarmen also has a general litigation practice, through which she advises client on issues such as contract, tort, and appellate litigation.

Maricarmen conducts investigations on discrimination, harassment, bribery, corruption, fraud, and conflicts of interest. She successfully represents clients in administrative hearings, such as before the Public Employment Relations Commission.

Maricarmen also has an active pro bono practice, representing a client in an asylum hearing with a favorable outcome and advising nonprofit organizations on employment matters.
Education & Admissions
Admissions
Washington, 2018
U.S. District Court for the Eastern District of Washington, 2021
Education
University of Washington School of Law, J.D., Order of the Coif, Associate Editor-in-Chief, Washington Law Review (2018)
Arizona State University (Honors College), B.S., Justice Studies, minor in French, Socio-Legal Certificate, magna cum laude (2015)
Recognition & Honors
Recognition & Honors
Pro Bono Public Honor Roll Member
Hazelton Fellow
Gregoire Fellow
CALI Awards: Persuasive Writing, Pretrial Practice, and Professional Responsibility
Experience
Experience
Extern for the Hon. James L. Robart of the U.S. District Court for the Western District of Washington (2017) Representative Work
Representative Work
Successfully limited claims against clients from eight to three claims by moving to dismiss a case early in litigation in Washington State Court.
Assisted a client in managing an employee's performance which resulted in an amicable separation of employment rather than a termination.
Counseled various clients regarding risks associated with termination and discipline.
Successfully negotiated severance on behalf of a client whose employment was terminated.
Professional & Community Activities
Professional & Community Activities
Hispanic National Bar Association, Region XVI YLD representative (2018 - 2019)
Volunteer high school Street Law teacher (2018)
Publications & Presentations
Publications & Presentations
"Governor Inslee Announces Mask Rule Changes Taking Effect March 12," co-author with Aviva Kamm, StokesLaw Briefs (March 10, 2022)
2021 Stokes Lawrence Employment Law Update, Fair Labor Standards Act and Minimum Wage Act Exemption Refresher
Washington State Tree Fruit Association Annual Meeting, Washington Farm Labor Contractor Update (2021)
Comment, An Uncommon Carrier: the FCC's Unintended Effects on Constitutional Use Taxation, 92 Wash. L. Rev. 1571 (2017)
Background & Interests
Background & Interests
Prior to joining the firm, Maricarmen was an associate with the Labor & Employment practice at K&L Gates. She has a native proficiency in Spanish and is proficient in French. In her free time, she enjoys reading, hiking, snow shoeing, and exploring Seattle's food scene.