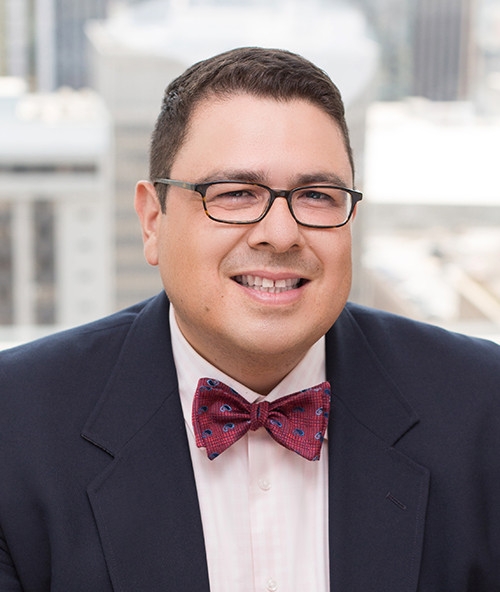 Justo González
Shareholder | Seattle
---
Overview
Justo is an experienced trial and appellate lawyer. He has successfully represented clients in class action and multi-plaintiff employment discrimination lawsuits, competition and consumer protection actions, intellectual property litigation, and trade secrets litigation. Justo's employment practice includes working with clients on preventative measures, such as leading employee trainings, counseling on disciplinary actions and workplace investigations, and conducting employment practices reviews. He also maintains an active pro bono practice, primarily in civil rights and civil liberties litigation, working with such organizations as the American Civil Liberties Union and The Defender Association.
Education & Admissions
Admissions
Washington
California
U.S. District Courts for the Western and Eastern Districts of Washington
U.S. District Courts for the Central and Northern Districts of California
U.S. Court of Appeals for the Ninth Circuit
Education
Stanford Law School, J.D.
California State University at Long Beach, B.A. in History, with honors
Recognition & Honors
Recognition & Honors
Washington Super Lawyers (2017 - 2022)
Rising Star, Washington Super Lawyers (2012 - 2013)
AAA Higginbotham Fellow (2014)
The Best Lawyers in America for Employment Law (2019 - 2023)
Representative Work
Representative Work
Defended an online retailer in a bench trial in the U.S. District Court for the Southern District of Florida over numerous claims of trademark infringement and unfair competition. The trial court issued judgment in favor of the client on all counts.
Secured a comprehensive summary judgment ruling on behalf of two agricultural clients facing national origin discrimination, hostile work environment, and pattern or practice claims of discrimination in a lawsuit filed by the Equal Employment Opportunity Commission (EEOC). The Court awarded the clients' fees and costs as prevailing defendants. On appeal, the Ninth Circuit remanded the case for consideration of claims the trial court had dismissed early in the litigation. On remand, the court again granted summary judgment in favor of the defense, holding that the EEOC had failed to support any of their claims.
Obtained unanimous defense jury verdict for one of the largest apple growers in the United States in a multi-claimant class action brought by the EEOC. Following a two-and-a-half week trial a nine-member jury of women and men found that the government had failed to prove that any of the 14 individuals whose claims went to trial had experienced sex harassment or a hostile work environment. Earlier in the case the court dismissed at summary judgment claims brought on behalf of 11 additional claimants.
Obtained complete summary judgment on multi-claimant allegations of retaliation brought by the EEOC. The case involved extreme allegations of intimidation, including threats of violence up to and including a murder-for-hire scheme by a former supervisor. At summary judgment the court concluded that the government and plaintiff-intervenors had failed to present any admissible evidence to support any of their very serious claims.
Obtained arbitration award in favor of a wireless service provider in a consumer dispute involving claims of unfair competition and false and misleading advertising.
Protected a Fortune 50 client's interests under a proposed plan of merger. Plaintiffs in the class action lawsuits challenging the merger eventually withdrew their challenge to the shareholder vote and released their claims.
Obtained dismissal of all claims involving copyright infringement against a multi-media entertainment corporation.
Obtained advantageous settlement in favor of employee in contentious litigation involving claims for declaratory relief, breach of employment contract and wrongful withholding of wages due.
Publications & Presentations
Publications & Presentations
"Non-Competes and Other Restrictive Covenants: What's Enforceable After January 1, 2020?" co-presenter, 2019 Employment Law Update for Washington Employers (November 2019)
"Pitfalls & Best Practices for Non-Competition & Non-Solicitation Agreements," presenter, Employment Law Institute CLE, King County Bar Association (March 2017)
"Employment Basics for Startups," presenter, Stokes Lawrence Employment Law Institute (November 2016)
"What Evergreen State Lawyers Need to Know About Employment in the Golden State," presenter, Employment Law Institute CLE, King County Bar Association (September 2015)
"What Managers and Supervisors in the Agriculture Industry Need to Know About Harassment and Discrimination Laws - Lo Que Los Gerentes y Supervisores en el Sector Agricola Necesitan Saber Sobre Las Leyes de Disciminacion y Hostigamiento," Washington State Horticulture Association 109th Annual Meeting & NW Hort Expo (December 2013)
"Best Practices for Protecting Your Business From Becoming a Target of the EEOC," Stokes Law Brief (2013)
"Managing Your Case at the EEOC," Employment Litigation from Start to Finish, presented by NBI (2012)
"Elements of Employment Law Claims, Initial Pleadings & Filings, Discovery Tactics," co-presented with Aviva Kamm, Employment Litigation from Start to Finish, presented by NBI (2012)
"Introduction to Employment Law Claims," co-presented with Aviva Kamm, 12th Annual Labor & Employment Law Conference, WSBA (2012)
Five Essential Issues to Consider in Determining Whether and How to Conduct an Internal Investigation, Washington State Bar Business Law Section, Vol. 30, No. 2 (Summer 2008)
Presentation: "Preparing for and Managing Electronic Discovery" (2008)
Presentation: "Recent Developments to the Washington State Rules of Professional Conduct" (2007)
Professional & Community Activities
Professional & Community Activities
Board Member, The Seattle Public Library Foundation
Past Vice President, Latina/o Bar Association of Washington Board of Directors and Judicial Evaluations Committee Co-Chair
Member, King County Bar Association Annual Martin Luther King, Jr. Luncheon Committee
Chair, Stokes Lawrence Diversity Committee
Member, Washington State Bar Association Business Law Section
Past-President, Board of Governors, CityClub, a civic organization committed to contributing solutions to the issues vital to the Puget Sound region
Member of the Sedona Conference Working Group on Electronic Document Retention and Production
Past Member, Washington State Bar Association Court Rules and Procedures Committee
Co-Chair, School Commission, St. Therese Catholic Academy
Former President, City of Los Angeles Environmental Affairs Commission
Background & Interests
Background & Interests
Justo was associated with the Seattle offices of Heller Ehrman LLP, where he was a member of the Complex Commercial Litigation and Antitrust and Trade Regulation practice groups from 2006 through 2008. Justo was also a litigator in the Trial Practice Group in the Los Angeles offices of Jones Day from 2002 through 2006. Prior to law school, Justo was a speechwriter, policy analyst and community relations aide to the City Attorney of Los Angeles, the Honorable James K. Hahn, and later served as a consultant to Mr. Hahn's successful 2001 mayoral bid.
Justo speaks conversational Spanish and Italian.