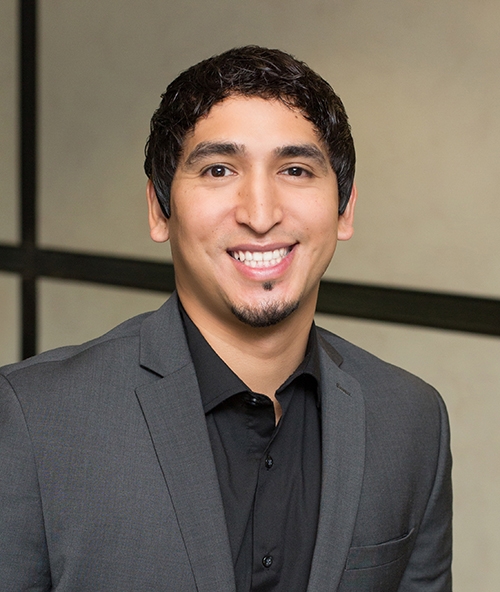 Jaime Cuevas, Jr.
Associate | Yakima
---
Overview
Jaime ("Jr.") works with clients on a variety of matters, such as business disputes and general litigation surrounding labor and employment law, agriculture law, and contract law.
His practice includes representing business clients before the Equal Employment Opportunity Commission and the Washington State Human Rights Commission. He also maintains an active pro bono practice working with organizations such as the American Civil Liberties Union and the Northwest Immigrant Rights Project.
Jr. is fluent in Spanish. He regularly offers employment law trainings in both English and Spanish.
Education & Admissions
Admissions
Washington, 2016
U.S. District Court for the Western District of Washington (2017)
U.S. District Court for the Eastern District of Washington (2016)
Kalispel Tribal Court "Spokesperson" (2015)
Yakama Nation Tribal Court (2019)
Education
Gonzaga University School of Law, J.D., Accelerated Program, magna cum laude, Associate Editor, Gonzaga Law Review (2016)
Washington State University, B.A., summa cum laude, Elementary Education, Endorsement in ESL (2014)
Representative Work
Representative Work
Assisted in representation of Cougar Den, Inc. in successful proceedings before the Washington Supreme Court and the U.S. Supreme Court. See Washington State Dep't of Licensing v. Cougar Den, Inc., 16-1498, 2019 WL 1245535 (U.S. Mar. 19, 2019). Both courts ruled that Cougar Den, which is owned by a member of the Confederated Tribes and Bands of the Yakama Nation, did not owe millions of dollars in fuel taxes assessed by the Washington State Department of Licensing. The courts held that Washington's application of its fuel tax on Cougar Den were preempted by the Treaty of 1855 between the Yakama Nation and the United States and preserved members' rights to travel upon all public highways.
Successfully represented large agricultural employer in favorable pre-finding settlement before the Washington State Human Rights Commission.
Represented local restaurant before the Washington State Liquor and Cannabis Board regarding liquor license issues.
Represented local real estate investor in numerous disputes with tenants, including assisting with eviction proceedings.
Assisted agricultural employer with the successful resolution of a labor dispute.
Assisted in the representation of fruit packing warehouse in alleged mishandling of agricultural commodity.
Successfully represented a family of seven at their asylum hearing before the U.S. Immigration Court. Only 4% of asylum applications from the family's country of origin were granted in 2016.
Served as pro bono cooperating counsel with ACLU of Washington in the matter of Glatt v. City of Pasco. Achieved historic Consent Decree in Voting Rights Act case that guarantees equal access to electoral process to Pasco's Latino community.
Publications & Presentations
Publications & Presentations
"Washington's Paid Family Medical Leave Act," co-presenter with Sarah Wixson, Bilingual Business Workshop, What Employers Need to Know (November 2019)
Indian Law Panel, panelist, Supreme Court Year in Review, Social Justice Decisions, Gonzaga University School of Law (October 2019)
"U.S. Supreme Court Upholds Yakama Treaty Rights in Washington State Department of Licensing v. Cougar Den, Inc.," co-author, article, Indian Law Newsletter (Spring 2019)
"Legal Ramifications of H-2A for the Agricultural Employer: What You Need to Know About Handling Domestic Referrals, Employing Local Workers, and Complying with Farm Labor Contractor Law," co-presenter with Brendan Monahan, Washington Growers League-MasLabor H-2A Forum (January 2018)
"History, Math, and Science: Hitting the Books to Understand The Voting Rights Act of 1965," presenter, Yakima Valley Community College - Diversity Series (October 2016)
Professional & Community Activities
Professional & Community Activities
JustLead Washington Leadership Academy, Fellow (2019)
Campaign for Equal Justice, Board Member (May 2019 - present)
2019 Access to Justice Conference Planning Committee, Co-Chair
Greater Yakima Chamber of Commerce, Board Member
Washington State Minority & Justice Commission, Past Law Student Liaison
Youth & Justice Forum(s), Volunteer and Keynote Speaker
Hispanic Law Caucus Gonzaga, Past President
Veterans Will Clinic, Volunteer
Background & Interests
Background & Interests
Prior to joining the firm, Jr. was a Rule 9 legal intern with the Spokane County Prosecutor's Office. Before that, he was a law clerk with University Legal Assistance in the General Practice/Indian Law Clinic and admitted to practice as a "Spokesperson" in Kalispel Tribal Court. He also previously worked as a legal researcher for a law school professor, in the field of K-8 education and in agriculture as a "trapper" for some of the largest orchards in Eastern Washington. In his free time, Jr. enjoys spending time with family, watching sports, and volunteering in the Yakima community.