Updated DOL Overtime Rules on Hold
By Krista Nelson Slosburg | Related Practices: Agriculture, Business and Employment
Last May, we reported that the U.S. Department of Labor expanded overtime pay for millions of Americans and raised the minimum salary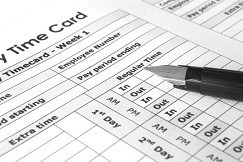 threshold to qualify for one of the "white collar" exemptions from $23,600 to $47,476 per year. As of last week, the new rules—scheduled to take effect on December 1, 2016—are on hold.
On November 22, 2016, a federal judge in Texas granted a nationwide preliminary injunction that prevents the new rules from going into effect, at least for now. At this point, the injunction is only temporary, and if made permanent, likely to be appealed. Unfortunately for businesses and employees eager for certainty as they budget and plan for the new year, that means we are not likely to have a final decision for several months. On the other hand, a court ruling lifting the injunction would require employers to act fast to come into compliance with little notice. With the law in limbo, you may be left wondering how to proceed.
What should employers do now?
If you planned to implement changes by December 1, budgeted for pay increases, and communicated those changes to employees, you may choose to proceed as planned. Suddenly eliminating pay raises employees were counting on is likely to damage employee morale.
If you planned changes, but had not yet announced them, or if you anticipated the changes would present challenges for affected employees or the business, your best option might be to wait until the future of the regulations is more certain. However, you should take all preparatory steps so that if the injunction is lifted, you are prepared to implement the changes quickly — even overnight.
If you weren't aware of the rule change, were behind on planning for it, or chose to wait to implement changes, you're not off the hook just yet. Employers should be prepared to implement the changes necessary to be in compliance with the regulations as soon as a decision is final.
Additionally, Washington Initiative 1433, which raises the state minimum wage, will still take effect January 1, 2017. If your employees qualify for this increase, you should still budget accordingly.
Stay tuned for updates on whether the rules will become final or overturned, and when that is likely to occur. In the meantime, please reach out to any of the attorneys in the Stokes Lawrence Employment Group with questions.