Stokes Lawrence Recognized as a Top 3 Firm in the Nation by LAW360's Glass Ceiling Report
In its annual "Glass Ceiling Report," LAW360 again recognized Stokes Lawrence as one of the top 10 Best Law Firms for female attorneys among law firms in the United States with 100 or fewer lawyers. Stokes Lawrence ranked as one of the top 3 firms in the nation leading equity partnership within this class.
To compile the report on the gender breakdown of attorneys in private practice, LAW360 collected data from more than 270 law firms on the demographics of their lawyer workforce. Firms with above average representation of female attorneys and female partners earn the title of Best Law Firms for Women. To be listed on the Ceiling Smasher list, firms need to rank above average in total female attorneys, female nonpartners and female partners.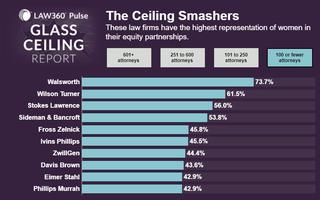 Women comprise half of the student body at law schools, yet they only fill about one-third of the ranks of lawyers in private practice. The survey's results show that Stokes Lawrence exceeds the industry average, including in firm leadership, where less than a quarter of equity partners are women and only 30% of women sit on executive or management committees. These results have not changed over the past several years. LAW360 reported that firm's had at least some female representation on their top management committee but few had anything close to parity. For the majority of the last two decades, Stokes Lawrence's three-person Executive Committee has consisted of at least two women.
According to Law360, these statistics show that "having a female leader sets an example for younger associates that they have a future and a path at the firm."
"We are incredibly proud of this recognition," explained Managing Shareholder Kelly Twiss Noonan. "Our firm has a long history of women in leadership positions. Our focus is on hiring excellent lawyers, no matter their gender. As a result, we have lawyer demographics that more closely reflect that of law school populations."
Stokes Lawrence is certified as a Women's Business Enterprise by the Women Business Enterprise National Council and in 2021 the firm was accepted as a member of the National Association of Minority and Women Owned Law Firms (NAMWOLF). NAMWOLF is a non-profit trade organization whose mission is to promote diversity in the legal profession by fostering successful relationships among pre-eminent minority and women-owned law firms and public and private entities.
To learn more about our firm's diversity, please visit our gender diversity page.