Estate Planning During a Pandemic
By Saul S. Tilden | Related Practice: Estate Planning & Administration
Category: Covid-19
As the COVID-19 pandemic continues into 2021, it is natural to think about getting your affairs in order, if only to be better safe than sorry. Making sure you have a Will, and an up-to-date one at that, is always a good idea. It can also provide additional peace of mind at a time like this.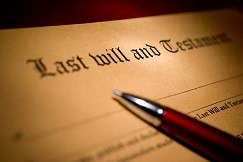 At the same time, the circumstances of a pandemic make it uniquely challenging to take care of your estate planning needs. Under normal circumstances, an attorney and client would meet in person at least once, if not several times, in order to prepare final documents. Most documents also require either witnesses or notarization. The most common estate planning document, a Last Will and Testament, requires two witnesses. For a number of reasons, it is best that these witnesses are not beneficiaries named under the Will. Unfortunately, this makes it difficult to use family members, who may be housemates, as witnesses.
All these concerns and the potential for financial stress during a pandemic might leave a person considering an online fill-in-the-blank style Will. While this may seem like a good idea to accomplish your estate planning needs, or at least to act as a stopgap until after the pandemic, there are a number of reasons why utilizing a form Will may be a bad idea. For instance, people using these Wills often fail to make a residuary bequest, which is a catch-all provision that distributes the portion of the estate not specifically bequested to other beneficiaries. Failing to include a residuary bequest can result in an estate passing to unintended beneficiaries and, at worst, passing to a person the drafter intended to disinherit. Additionally, proper and thorough drafting helps to prevent later challenges to the Will. The legal fees associated with such challenges can quickly diminish the value left to be distributed to intended beneficiaries. Finally, consulting with an attorney helps to ensure that the legal formalities of Will execution are met and that any appointments to fiduciary roles take into consideration the limits of who may serve.
If you need to take care of your estate planning, even in a pandemic, it is still best to consult an attorney. Up until execution of the final documents, the entire process can be done via phone and with video conferencing equipment. Execution of the documents will require witnesses and notarization, but your attorney should be able to provide witnesses in a safe and socially distanced environment. Your attorney or another service may also be able to provide remote notarization so that being in the physical presence of the notary is not required.
If you are interested in putting together an estate plan, or updating your current estate plan, please contact a member of the Stokes Lawrence Estate Planning Group.