DOH, L&I Revise COVID-19 Requirements for Temporary Worker Housing
By Aviva Kamm | Related Practices: Agriculture and Employment
Category: Covid-19
On September 10, 2020, Washington State's Department of Health (DOH) and Department of Labor & Industries (L&I) revised its emergency rules setting out COVID-19 requirements for temporary worker housing facilities.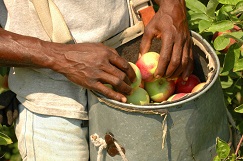 The original emergency rule governing COVID-19 precautions for Temporary Worker Housing (TWH) took effect on May 18, 2020. The new version of the rule, WAC 296-307-16102, reiterates nearly all the same requirements contained in the prior version and then adds some more.
What's Required and What's New?
A. Have a COVID-19 Plan & Notify DOH of any Changes
As with the prior version, the revised rule requires TWH operators to develop and implement a physical distancing plan as well as a plan to identify sick occupants through screening for symptoms and conducting temperature checks.
What's new: If an operator makes any further changes to the TWH management plan, the operator must submit the updated plan to the DOH within 10 days.
B. Provide Free Cloth Face Coverings & Additional Facilities
The earlier version of the rule required operators to supply occupants with cloth face coverings but did not indicate the number of face coverings to be provide.
What's new: The updated rule requires that the operator supply each occupant with "an adequate number" of cloth face coverings at no cost the occupant. The lack of any specified number suggests that the required number depends on the type of work being performed, the laundry facilities available to the occupants, and any number of other factors that might affect the occupant's ability to have a clean face covering on hand at all times. At the very least, each occupant should be provided a minimum of two cloth face coverings to allow use of one while washing the other.
What's new: The revised rule also adds a requirement that — "in order to facilitate social distancing" — operators "must provide additional temporary cooking, bathing, washing, and toilet facilities." In determining whether additional facilities are needed, operators may wish to consider whether the current number is sufficient for occupants to be able to utilize them as needed and on a reasonable schedule while maintaining distancing guidelines consistent with other aspects of the rule.
C. Post Schedules for Common Areas Used by More than One Group Shelter
The permissibility of group shelters of up to 15 occupants that share facilities is now well-publicized.
What's new: Operators who were not already doing so must distribute and conspicuously post a schedule that provides use of the shared area by only one group at a time and allows adequate time for each group to perform the associated activity. Additionally, all high-contact surfaces must be sanitized between each group.
D. Ensure Adequate Ventilation for Sleeping Quarters
The updated rule didn't change the requirements for bed placement (either ensure 6-feet distance between beds or use appropriate barriers). But the update did add requirements regarding ventilation. What's new: For all TWH facilities, "mechanical ventilation systems must be turned on or windows must be open whenever the sleeping quarters are occupied." The rule goes on to explain that for any occupied sleeping quarters without a HVAC system, the windows may be closed only if outside conditions would pose a hazard, such as during dust storms or when chemicals are being applied nearby.
E. Isolate and Report Suspected Cases of COVID-19
What's new: The new rule specifies steps an operator must take when it suspects that a TWH occupant has contracted COVID-19:
Immediately contact the local health officer.

Quarantine or test all group members, as directed by the local health agency.

Immediately isolate the occupant with separate sleeping, eating, and bathroom accommodations, except that the sick occupant has the option to isolate with the family members.

Report isolations within 24 hours. Within 24 hours of placing any symptomatic or positive TWH occupants in isolation, the operator must be report the isolation event to the division of occupational safety and health (DOSH). This is a new and additional requirement contained in the revised rule, and DOSH's toll-free number is 1-800-423-7233.

Outbreak testing protocols. Though not part of the rule for TWH, all agricultural employers, whether operating TWH or not, must follow the outbreak testing protocols announced in August. Read our article here for a summary and links to additional information.
F. Ensure Isolation Facilities are Adequate & Properly Located
The revised rule's most notable additions are those that expand the requirements regarding isolation facilities. Isolation facilities must meet the following requirements, and if the operator uses other isolation facilities (such as hotels or governmental isolation centers), the operator must verify that they likewise meet these requirements:
Provide two healthcare professional visits per day.

Provide access to phone service, including providing a phone if the occupant does not have one.

Be located within 20 minutes of advanced life support (ALS) emergency services.

Be located within one hour of an emergency room with ventilator capability.

Provide food and water.

Monitor the occupant's safety.

Provide information about paid leave and workers' compensation. See our earlier articles for information about federal COVID-19-related leave (FFCRA) and the new state program for COVID-19-related paid sick leave to workers in agricultural food production.
G. Allow Entry of Outreach Workers & Attorneys
As before, operators of TWH facilities must allow entry of "community health workers" and "community-based outreach workers" for the purposes of providing additional information about COVID-19. The duty to allow others onto the premises extends even beyond this rule's particular requirement. As explained more in a prior COVID-19 Update, although employers may place reasonable restrictions on time, place, and manner of such visits, farmworker advocates are allowed to conduct site visits under well-established Washington law. A recent opinion issued by Washington's Attorney General confirms that this extends to attorneys and other representatives of legal aid organizations, even where they do not have a prior invitation by the workers.
H. Consult Your Attorney with Any Questions
The regulations contained in WAC 296-307-16102 are too numerous and complex to discuss in this article. Moreover, this rule interacts with several other requirements applicable to agricultural employers and workers, such as the Agricultural COVID-19 Requirements. Contact Aviva Kamm, Sarah Wixson, J.P. Schroeder, or any member of Stokes Lawrence's Employment Group for help following the new requirements for agricultural employers.