Stokes Lawrence Recognized for Corporate Philanthropy for Sixth Year
The Puget Sound Business Journal has named Stokes Lawrence as one of the top 75 Corporate Philanthropists in the area. This is the sixth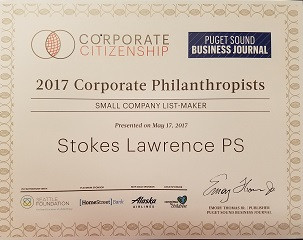 year the firm has been recognized, including being named among the top eight Corporate Champions in 2016.
PSBJ surveys area businesses on their annual corporate giving and community service activities. The top 75 businesses are recognized for their philanthropic activities and efforts to strengthen the community.
"We are proud of the pro bono and community service activities of our lawyers and staff, and are deeply honored to be recognized by the Puget Sound Business Journal," said Managing Shareholder Kelly Twiss Noonan.
The firm regularly provides financial support to local organizations that promote social justice and help those who are less fortunate. Stokes Lawrence employees donate hundreds of hours to pro bono legal work and community service projects each year. In addition, the Stokes Lawrence Charitable Foundation supports Northwest charities that promote social justice and provide essential services, such as food, housing, clothing, education and health care to individuals and families in need.