Termination: Documentation, Employees on Leave, and Severance Agreements
By Krista Nelson Slosburg | Related Practice: Employment
For employers, hiring and terminating employees is a necessary part of running the business, but it can lead to problems if employers do not take steps to ensure that they follow proper policies and procedures. This two-part series covers best practices in hiring and terminations. Part 1 focused on the hiring process. Part 2 focuses on termination.

How Should I Document Termination Decisions?
Ideally, an employee should never be surprised by a performance-based termination. Instead, the employee should be receiving intermittent feedback and immediate feedback when an issue first begins to surface. Accurate job descriptions will provide a good benchmark of the company's expectations and can help identify where an employee might be falling short.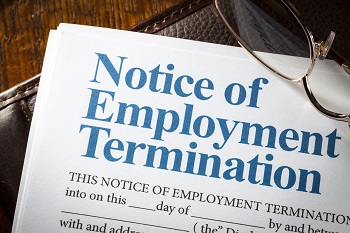 While face-to-face communications are good, care should be taken to document any performance conversations in a follow-up written memorandum or e-mail. When documenting conversations, be sure to include the right amount of detail. For example, the date, location, who was present for the conversation, and the nature of the problem should be included. It should also be clear what the expectation is going forward for the employee and the consequences for an employee's failure to improve.
It is a good idea to provide opportunities, suggestions, and tools for how an employee might go about improving his or her performance and to likewise document those discussions. For example, is there additional training that the employee could receive to help improve performance?
In terms of deciding what action might be taken, consider progressive discipline and whether something other than termination might be appropriate. Also give consideration to what the company has done in similar circumstances in the past to avoid the appearance of favoritism or discriminatory application of company policies.
If you decide to terminate an employee's employment, take the time to review the documentation to date. Give thought to the reason for the termination and make sure that what you tell the employee is consistent with that reason. Keep in mind that in Washington, an employee has a legal right to request a written letter from the employer stating the reason for the termination. WAC 296-126-050(3). The employer must provide a response in writing within 10 business days, so it is a good idea to be prepared in the event an employee makes such a request, and that your answer to such a request be consistent with what the employee was told when he or she was let go.
Can I Terminate an Employee Who Is on Leave?
Employers should exercise great caution when considering whether to terminate an employee who is on leave. The first question to consider should be the nature of the leave. For example, has the employee been given a period of leave as a reasonable accommodation under disability law? Or has the employee taken leave under the Family Medical Leave Act ("FMLA")? Or has the employee taken a leave of absence not legally required, but rather one the employer and employee agreed to in advance of the leave?
Under the Americans with Disabilities Act ("ADA"), a leave of absence for medical treatment may be a reasonable accommodation. Humphrey v. Mem'l Hosps. Ass'n, 239 F.3d 1128, 1135 (9th Cir. 2001). An extended medical leave or extension of an existing leave period may also be a reasonable accommodation if it does not impose an undue hardship on the employer. See 42 U.S.C. § 12111(9), Nunes v. Wal-Mart Stores, Inc., 164 F.3d 1243 (9th Cir. 1999). However, the ADA does not require an employer to permit an employee to take an indefinite, lengthy, unpaid leave of absence if the employer does not know when the employee will be able to return to work. Dark v. Curry County, 451 F.3d 1078, 1090 (9th Cir. 2006); Norris v. Allied-Sysco Food Servs., Inc., 948 F. Supp. 1418 (N.D. Cal. 1996). There is no defined time as to what constitutes a reasonable period of leave, and what is reasonable will vary under the specific circumstances. As a best practice, stay in touch with the employee to determine the timeframe of the leave and also to explore if and when other accommodations might allow for a return to work, rather than providing continued leave.
Under the FMLA, if an employee is eligible for leave, he or she is entitled to job protected leave for a defined period of time. The law likewise provides employees with the right to return to the same or a similar job after their leave ends. Therefore, aside from a few exceptions, for example in the event of a reduction in force or reorganization, employers generally may not terminate an employee while he or she is on FMLA leave.
Employers have a bit more flexibility if an employee has been granted a leave of absence not under the ADA or FMLA, but rather for a personal reason to which the employer previously agreed. If other forms of leaves of absences are addressed in an employee handbook or policy, employers should ensure that they are following their own policies and applying them consistently. Ideally, the leave of absence should be on terms agreed in writing by both the employee and the employer. Depending on the circumstances, the acknowledgment might include disclaimer language that the company cannot guarantee the employee his or her position will remain open at the time the leave of absence expires and reserving the employer's rights to make any adjustments as necessary.
Should I Offer Severance?
In Washington, there is no legal requirement that severance be provided to an employee. Severance pay is something to which employees are not otherwise entitled, so it is typical and recommended that it only be provided if the employee executes a release of claims in exchange for the severance pay. Whether to offer severance pay depends on the specific situation, what the company's practice has been in the past, and whether the company wants peace of mind with respect to certain terminations. In addition to past practices, consider the amount of time an employee has been with the company and also what sort of risk the termination presents.
While a form severance agreement and release can be a good starting point, it is important to tailor a release to the specific situation. For example, if an employee is over the age of 40, certain notices are required for the release of claims to be enforceable, and the employee must be given sufficient time to consider the agreement and have it reviewed by a lawyer if desired before they agree to the terms.
This post provides a summary of common issues involving employment terminations. If you have specific questions regarding Washington employment regulations, contact a member of the
Stokes Lawrence Employment Group
.