How Does Washington's "Stay Home, Stay Healthy" Proclamation Affect Construction Activities in Washington?
Related Practice: Real Estate
Since Governor Inslee's issuance of the March 23, 2020 "Stay Home, Stay Healthy" Proclamation, many within the construction industry were left wondering whether and to what extent they are required to halt their commercial or residential construction projects in Washington. This is what we know so far.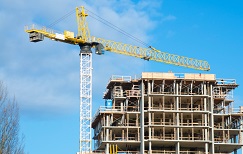 The Proclamation prohibits all non-essential businesses in Washington from operating, except for conducting basic minimum operations, until midnight on April 6, 2020. Any willful violation of the Proclamation constitutes a gross misdemeanor, which is punishable by up to 364 days in jail or by fine of up to $5,000.
Certain designated Essential Critical Infrastructure Workers, classified into 13 categories of industry sectors as listed below, are exempted from the Proclamation's prohibition and are permitted to remain open and operating, provided such businesses establish and implement social distancing and requisite sanitation procedures.
Healthcare / Public Health
Emergency Services Sector
Food and Agriculture
Energy
Water and Wastewater
Transportation and Logistics
Communications and Information Technology
Other Community-based Government Operations and Essential Functions
Critical Manufacturing
Hazardous Materials
Financial Services
Chemical
Defense Industrial Base
As for construction-related activities, the Essential Critical Infrastructure Workers list exempts a relatively narrow class of construction workers and construction activities from the Proclamation's prohibition. Included in this list are "Construction workers who support the construction, operation, inspection, and maintenance of construction sites and construction projects (including housing construction) for all essential facilities, services and projects included in this [Essential Critical Infrastructure Workers list], and for residential construction related to emergency repairs and projects that ensure structural integrity." This exemption appears to be a catch-all for any construction activity that supports essential activities listed in the Essential Critical Infrastructure Workers list.
In an effort to provide clarifying guidance as it relates to commercial and residential construction, on March 25, 2020, Governor Inslee released a Memorandum. The bottom line of this Memorandum is that most construction work activities are not deemed essential and therefore not permitted: "[i]n general, commercial and residential construction is not authorized under the Proclamation because construction is not considered an essential activity."
However, the Memorandum lays out three exceptions to the general ban on construction activities: (1) construction activities related to the essential activities set forth in the Essential Critical Workers list; (2) construction activities that involve public entities or governmental functions or facilities, including publicly financed low-income housing projects; and (3) construction activities that prevent spoliation or address emergency repairs at non-essential businesses and residential structures.
Activities that fall under the foregoing exceptions must establish and implement social distancing and appropriate health and worker protection measures. And, based on the Proclamation and Memorandum, it appears that only those employees that are considered "essential" under the Essential Critical Workers list may continue to work on such permitted construction projects.

If you have questions regarding your specific construction project, contact a member of the Stokes Lawrence Real Estate team.