Hiring: Job Descriptions and Interviews
By Krista Nelson Slosburg | Related Practice: Employment
For employers, hiring and terminating employees is a necessary part of running the business, but it can lead to problems if employers do not take steps to ensure that they follow proper policies and procedures. This two-part series covers best practices in hiring and terminations. Part 1 focuses on hiring.

Do We Need Job Descriptions?
Job descriptions are not only an important tool for recruiting potential candidates, but they also provide a helpful summary of job duties that can be important for managing performance issues, determining appropriate compensation, navigating disability or religious accommodation issues, and facilitating employees' return from medical leave.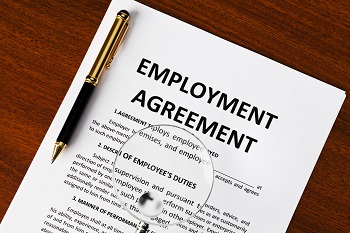 Job descriptions should typically include the following elements: (1) job title; (2) job classification; (3) duties; (4) qualifications; and (5) physical and interpersonal requirements.
The job title conveys information about where the position falls in the company's organization, the level of responsibility associated with the position, and may help set expectations about pay.
The job classification explains whether the position is exempt or non-exempt from overtime pay requirements under federal and state law. It can also specify whether the position is full-time or part-time.
The duties section should clearly articulate what is expected of the employee and outline the essential functions of the job. Essential functions become very important when exploring potential disability or religious accommodations that an employee might request.
Qualifications should set forth any requirements such as educational level, professional certifications, technical skills, or a minimum amount of prior work experience. Clear qualifications should help narrow the pool of applicants to those who are capable of performing the job.
The physical requirements should set forth any specific physical demands the job requires; for example, standing, sitting, or lifting requirements. It might also identify if the job requires travel or scheduling availability outside regular business hours.
Job descriptions should be evaluated and updated periodically to ensure that they are current. It is also a good idea to have them reviewed by supervisors or managers who work with those employees in the position on a daily basis to ensure they are accurate.

Employers might also consider including a disclaimer at the end of the job description to ensure that they retain discretion to make adjustments as necessary. For example, the disclaimer might read: "The duties and responsibilities set forth above are not intended to be an exhaustive list; rather, the company reserves its rights to add additional tasks as deemed necessary from time to time."
What Can I Ask in an Interview?
It is important to remember that even before potential candidates are actually employees, the law protects them from various forms of illegal inquiries. As a starting point, Washington's Law Against Discrimination prohibits employers from discriminating against employees based on race, creed, color, national origin, sex, veteran or military status, sexual orientation, disability, or use of a service animal. RCW 49.60.030. A good rule of thumb is that questions to job candidates should be focused on the job itself.

Washington's Administrative Code sets forth legal and non-legal inquiries in a helpful framework for employers to reference. WAC 162-12-140. For example, asking a candidate if he or she is married or has children is not legal; however, asking if the employee can meet the work schedule is permissible. Employers should also not ask questions that elicit any information about an applicant's health, place of birth, or whether they are a United States citizen.

Also keep in mind that Washington State limits what employers can ask about arrests and convictions, given that statistical studies about arrests show a disparate impact on some racial and ethnic minorities and arrests alone are not a reliable indication of criminal behavior.

Washington recently joined several other states by enacting "ban the box" legislation. Effective June 6, 2018, the Fair Chance Act prohibits employers from asking about arrests and convictions before an applicant is determined otherwise qualified for the position. The law applies to most employers, aside from several exemptions mostly for employers working with vulnerable populations. Employers should not include any questions about arrests and convictions on employment applications, and should likewise not inquire about arrests or convictions orally or in writing during the initial screening or interview process.

Employers who use third-party services to conduct employee background checks should proceed with caution and be certain they are complying with the requirements of the Fair Credit Reporting Act (FCRA) and Washington's Fair Credit Reporting Act (WFCRA), if applicable.

Our next segment in this series will focus on termination. If you have specific questions regarding Washington employment regulations, contact a member of the Stokes Lawrence Employment Group.