Real Estate Group Ranked Among Largest in Puget Sound
Related Practice: Real Estate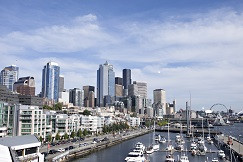 The Puget Sound Business Journal named the Stokes Lawrence Real Estate practice as one of the largest practices in the Puget Sound region, which includes King, Kitsap, Pierce and Snohomish counties.
The group significantly expanded last fall when Erin Howshar, Serena Sayani, David Rubenstein, Julia Clark, and paralegals Kay Brittain and Sarah Prodzinski joined the firm. Together with Sean Griffee, Mike Garner, Bill Neal, Tom Lerner and Olivia Gonzalez, they assist clients with their commercial real estate transactions from dirt to disposition
"We appreciate being recognized by the Puget Sound Business Journal," noted Sean. "The depth of our practice allows us to provide clients with diverse perspectives to help effectively manage their investments."
Stokes Lawrence Real Estate attorneys regularly advise commercial land owners, developers, investors, borrowers, and lenders in all categories of the commercial real estate market, including office, multifamily, retail, industrial, and agriculture.