Serena Sayani, Stokes Lawrence Honored at Elevate Awards
Related Practice: Real Estate

Real Estate attorney Serena Sayani won the Rising Rock Star Award, and Stokes Lawrence was recognized as a finalist for the Corporate Ceiling Breaker Award at the 2nd Annual Elevate Awards. The event honors individuals and employers who are making a positive impact on the commercial real estate industry.

"I am so honored to be recognized for this award," said Serena. "It is an exciting time to be part of the commercial real estate industry. Not only because of the exciting projects that are transforming our area, but also because of the increased diversity we are seeing throughout the industry. I believe that will only strengthen our future growth."

"We are very proud of Serena and fortunate to have her as part of our dynamic Real Estate practice," noted Managing Shareholder Kelly Twiss Noonan. "We are also honored to be named a finalist for the Ceiling Breaker Award. We are very proud of the diversity of our firm, particularly our gender diversity. As a 50% women-owned firm, we appreciate the importance of encouraging women to hold leadership positions in their respective fields."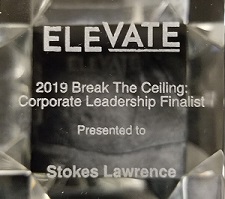 Stokes Lawrence Real Estate attorneys regularly advise developers, investors, and lenders in all categories of the real estate market including multifamily, retail, office, industrial, and agriculture.