In Memoriam: Frederick "Rick" Rasmussen
Related Practice: Employment
We are deeply saddened to announce the passing of our colleague, friend, and mentor Rick Rasmussen. He passed away on Christmas Day.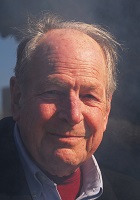 Rick was a legendary Washington employment and labor lawyer who, along with other longtime colleagues at Stokes Lawrence, helped establish the firm's Employment practice as a leader in the state. He was an amazing mentor and took pride in the accomplishments of others. The number of lawyers and others around the state who can tell stories of Rick's gentle (and sometimes not-so-gentle!) mentorship is long.
We remember Rick for being irreverent, fun and kind. He felt strongly that values needed not only to be stated, but also needed to be the foundation of our decisions and actions. When he spoke, others listened.
He is survived by his wife, Peggy (who was an of counsel attorney with the firm for several years), three children, and grandchildren.
Goodbye, old friend. You will be missed.