New Standards Could Mean More Revenue for Landlords
Related Practice: Real Estate
Commercial landlords should consider revising their standard lease and lease renewal forms now that the Building Operators and Managers Association (BOMA) has updated its standards for measuring rentable square footage.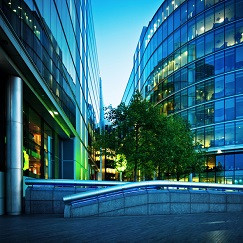 The BOMA standards have long been the gold standard of rentable floor area measurement in commercial leases, accepted by landlords and tenants alike as fair and accurate. The standards set out what in a commercial building should be measured, how to measure it, what to include, what to exclude, and how to apportion amenities among tenants. BOMA offers measurement standards for office, industrial, retail, mixed-use, and even multi-family residential buildings.
The new update is the first revision to the standard since 2010. (The 2010 revision apparently didn't have quite the staying power of its predecessor, the 1996 revision, but that is beside the point.) What changed in the recent update? A few things, most of which are good for landlords:
Balconies, Galleries, and Terraces: If a tenant has exclusive use of a balcony, covered gallery or finished rooftop terrace, the measurement of those areas will now be included in the rentable square feet of the premises. These would previously have been considered amenity space that is not directly attributable to the relevant premises.
Public Pedestrian Thoroughfares: The 2010 BOMA standards included a boundary condition on public pedestrian thoroughfares that has been removed from the 2017 update.
Major Vertical Penetrations: "Vertical service areas" such as elevator shafts and stairwells are now included in the calculation of ground floor spaces.
Inter-building Areas: Under the 2010 standards, inter-building areas such as conference rooms and loading docks would have been allocated to all tenants in the building or just a single floor. The revised standards allow a landlord to allocate those spaces to a specific tenant or group of tenants, permitting a higher degree of customization.
Some of these changes will allow landlords to capture greater revenue from existing buildings, such as by adding elevator shafts and balconies to new or renewing leases. Others, like the pedestrian thoroughfare standard, may actually reduce the rentable square footage.
The landlords most likely to benefit from the new standards are those with newer buildings featuring balconies and terraces, those with substantial ground floor leasing like retail, and buildings with major loading dock and similar facilities used primarily by a single tenant or group of tenants.
Landlords should consider whether the BOMA 2017 standards make sense for their buildings, or whether it is more beneficial to stick with the BOMA 1996 or 2010 standards. If BOMA 2017 is the way to go, landlords should get their buildings remeasured and make sure that all new leases, renewals, and expansions refer to the new and improved standards.
If you have specific questions regarding your lease forms, contact a member of the Stokes Lawrence Real Estate practice.