Department of Labor Plans Overtime Overhaul
By Aviva Kamm and Kelby D. Fletcher | Related Practice: Employment
This week the U.S. Department of Labor issued proposed regulations that would broaden overtime pay to raise the minimum salary threshold required to qualify for the Fair Labor Standards Act's "white collar" exemption to $50,440 per year, with the anticipated result of making nearly 5 million more people eligible for overtime who are currently exempt. Currently, that threshold sits at $23,660. Under the proposed rule, employees who fall under the threshold will become entitled to overtime protections regardless of job duties.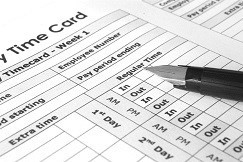 In addition to the increased salary threshold, highlights from the proposed regulations include:
The possibility that nondiscretionary bonuses will be included in the calculation of the minimum required salary, both for the white collar exemptions and for the highly compensated employee exemption;

An increase in the annual threshold for the highly compensated employee exemption from $100,000 to $122,148;

Automatic updating of threshold numbers through one of two methods: Either tying the numbers to identified percentiles of all wage earners or to future increases to the Consumer Price Index for All Urban Consumers (CPI-U);

Potential changes to the computer professional exemption, or whether additional IT-based exemptions should be created. With that exception, the Department took a pass on updating any of the qualifying standards for other "white collar" exemptions.
The new regulations are not expected to be implemented until 2016, and the details could change after the public comment period. But employers can take steps now to assess how their businesses would be affected by the proposed changes and to develop a plan for compliance and to assess how employees are paid and classified to determine whether they will be eligible for overtime under the regulations. Remember, just calling compensation a "salary" or adding the word "manager" to an employee's title does not exempt the employee from overtime.
Contact one of the attorneys in the Stokes Lawrence Employment Group if you need assistance with employee classification or have questions on how the proposed regulations may impact your business.