Court of Appeals Sets Record Straight on Fiduciaries' Role and the Scope of TEDRA
By Karolyn A. Hicks | Related Practices: Estate Planning & Administration and Trust & Estate Litigation
On August 4, 2014, the Court of Appeals, Division I, issued a slightly revised opinion from its May opinion, In re Estate of J. Thomas Bernard again confirming two long-standing practices in the trust and estate field: (1) that encompassed within trustee's and personal representative's duties is the duty to defend a decedent's last stated intent; and (2) that parties can use the Trust and Estate Dispute Resolution Act ("TEDRA") to modify earlier agreements and estate planning documents, specifically including wills and trusts. This opinion sets to rest any ambiguity that may have previously existed in the case law in these two contexts.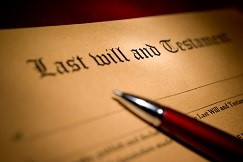 In re Estate of Bernard involved a will and trust contest where petitioners argued that modifications made to a will and trust in which they were named beneficiaries were void. The petitioners also challenged the fiduciaries' right to appeal the lower court ruling. The Court sided with the respondents on both counts, referring to the petitioners' as "not analytically relevant," having "no persuasive argument," and "again wrong" at various points in the opinion. This strong language selected by the Court of Appeals suggests that practitioners who were already advising fiduciaries to defend a decedent's last stated intent regardless of threats by beneficiaries and/or those who are using a TEDRA agreement to modify earlier agreements and estate planning documents have been advising correctly and consistent with law.
Background
J. Thomas Bernard had a will and revocable trust agreement that provided his estate would pass to his son James upon his death. The trust further added that if James predeceased Tom and left no children, the estate would pass to Tom's niece and nephews. Upon signing the will and trust, Tom also signed an agreement under TEDRA, providing he would (1) file a petition with the court, (2) notify his son James, and (3) get court approval, before he made any revisions to his estate plan.
Tom later signed a codicil and amendment to the trust, which maintained James as the primary beneficiary, but if James predeceased Tom, a reduced amount of the estate would pass to Tom's niece and nephews, and the balance of his estate would go to different beneficiaries. He and James signed a second TEDRA agreement that agreed to the revisions.
James predeceased Tom, leaving no children, and Tom died four months later.
Tom's niece and nephews contested the revised and amended documents, arguing that Tom failed to follow the three-step process he initially agreed to in the first TEDRA agreement, namely to (1) file a petition, (2) notify James, and (3) receive court approval prior to revising his estate plan. The beneficiaries of the revised estate plan, the co-trustees (who were represented by Stokes Lawrence), and a personal representative of the estate all disputed these claims.
The trial court ruled in favor of the niece and nephews, stating the modifications to the will and trust were null and void because Tom did not follow the three steps outlined in the first TEDRA agreement.
After the niece and nephew prevailed at the trial level, they also objected to the personal representative and co-trustees' efforts to defend the revised documents. The personal representative and co-trustees petitioned the court for instructions on whether they could appeal the ruling and a different trial court held they could not. The issue of whether they could appeal then also went to the Court of Appeals for review.
Court of Appeals Reverses Lower Court Decision
The Court of Appeals reversed the lower court's ruling that the modifications were null and void, stating that TEDRA permits modification of estate planning documents by agreement and that Tom substantially complied with the steps necessary to properly modify the trust.
The Court of Appeals also agreed that the co-trustees have a fiduciary responsibility to carry out the wishes of the decedent, and in doing so must have the right to appeal and defend the decedent's revised estate plan.
"When construing a testamentary instrument, our paramount duty is to give effect to the maker's intent," the Court noted in its opinion. It found the testator's last stated intent was as expressed in his revised documents. It then remanded to the trial level so the parties can litigate petitioners' other claims, which are the more traditional will contest claims of undue influence and lack of testamentary capacity.
Fiduciaries facing challenges to their defense of a decedent's estate planning documents can now rely on In re Estate of Bernard to support their position. Likewise, estate planners can now more confidently revise estate planning documents and prior TEDRA agreements through new TEDRA agreements without having to worry about whether doing so is proper. Contact counsel if you have any questions regarding your rights or responsibilities in these areas. We are more than happy to answer any questions you may have on these topics.