Another Reason to Avoid Second Deeds of Trust
By Thomas A. Lerner | Related Practice: Financial Services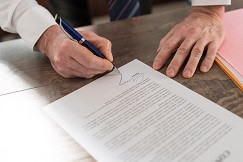 In Centrum Financial Services v. Union Bank, decided December 17, 2017, the Court of Appeals clarified the limitations on the right of a junior lienholder to cure a default of a senior secured indebtedness. Centrum requires caution and additional preparation when considering whether to foreclose on a second deed of trust.
Frontier Bank had loaned $1,875,000 secured by a two-story office building in Monroe. Subsequently, Centrum Financial Services loaned an additional $1,610,000 secured by a second deed of trust on the same property. Following a default on its loan, Centrum foreclosed, taking ownership of the building following a credit bid. At the time of the Centrum foreclosure, the borrower was already in default on the Frontier Bank loan.
Union Bank, as the successor to Frontier Bank and the holder of the Frontier Bank loan commenced foreclosure, relying in part on the Centrum foreclosure sale as triggering the "due on sale" clause. Union Bank declined Centrum's request to reinstate the loan and allow Centrum to repay the Frontier Bank loan over time according to its terms. Rather, Union Bank accelerated the loan and began foreclosure. In response to Centrum's inquiries, Union Bank demanded payment in full. Centrum sought to enjoin Union Bank's foreclosure, asserting that it had a right to reinstate the loan, now that Centrum was the owner of the property.
Centrum was a stranger to the lending relationship that was the basis for the first deed of trust held by Union Bank, and neither a grantor of the deed of trust nor an assignee of the deed of trust held by Union Bank. In that light, the Court found that it had no statutory right to cure the loan. Union Bank was not inclined to enter into a new lending relationship with Centrum. To avoid the Union Bank foreclosure, Centrum would be obligated to pay Union Bank for the full amount of the indebtedness secured by the Property. One of the privileges of being a lender, after all, is that one gets to choose your borrowers.
For lenders and special assets officers, Centrum reminds us of the risks of holding junior liens. Protection of the collateral is likely to require a lump sum payoff of the senior debt. When enforcing a junior lien, prudence dictates that one begin negotiations with the senior lienholder prior to the foreclosure of the junior lien, if the objective is to simply service the senior debt while the property is sold following foreclosure.