Stokes Lawrence has a long history of supporting and developing women leaders. We are a majority women-owned firm, with women constituting 57% of our equity shareholders, including our Managing Shareholder. These ratios are not new. In fact, for several years in the mid-2000s, a majority of the firm's owners were women, and all members of the Executive Committee were women.

Stokes Lawrence is a member of the National Association of Minority and Women Owned Law Firms (NAMWOLF), a non-profit trade organization whose mission is to promote diversity in the legal profession by fostering successful relationships among pre-eminent minority and women-owned law firms and public and private entities. NAMWOLF assures that member firms represent the highest-caliber lawyers providing exceptional service in sophisticated matters, while also advocating for increased diversity in the legal community.
We are also certified as a Women's Business Enterprise by the Women Business Enterprise National Council.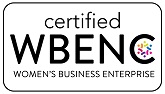 We believe it is our culture of fairness, respect and opportunity that helps make Stokes Lawrence a great place to work. We take great care to ensure those who join the firm share our values and contribute to our constructive culture. As a result, we have built a strong firm where all of our employees--women and men--can thrive.
Some of the firm's policies also contribute to a successful environment for our women attorneys, including offering 12 weeks of paid family leave to all new parents (women and men), offering flexible work arrangements, and not having a "mommy track" for partners.

Stokes Lawrence has been recognized for its firmwide commitment to the development of women lawyers. Law360 regularly recognizes us as one of the Best Law Firms in the United States for Women, including listing us on its "Ceiling Smashers" list, which ranks the Top 40 firms nationwide with the highest percentage of women partners.
In Their Own Words...
Some of our attorneys shared their thoughts on Stokes Lawrence's long-term success:
"Since the founding of the firm nearly 40 years ago, we have always had a strong tradition of women leaders and owners. This provides a variety of female role models, many of whom are not only leaders within the firm, but leaders within their practice areas and the legal profession."
"The shared expectation at the firm is that all of our attorneys can have a satisfying career and a healthy life outside of work. We don't require special "workarounds" for women who want that."
"We appreciate a variety of talents and backgrounds and don't expect everyone to fit into the same box."
"It is universally accepted within the firm that being a good mom or dad and being a successful lawyer aren't mutually exclusive."