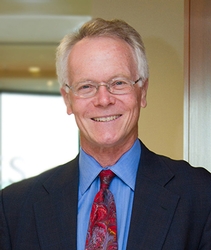 Michael R. Garner
Of Counsel | Seattle
---
Overview
Mike helps guide his clients through the complexities of commercial real estate transactions. Property owners, buyers, sellers, lenders and tenants turn to him for counseling on financing, purchases and sales, property management, leasing, development and general business advice. An experienced litigator, Mike also represents clients who find themselves involved in commercial litigation matters, advocating on behalf of their best interests in state and federal courts.
Education & Admissions
Admissions
Washington, 1979
U.S. Court of Appeals for the Ninth Circuit (2001)
U.S. District Courts for the Western (1979) and Eastern (1981) Districts of Washington
U.S. District Court of Hawai'i (1976)
Education
University of California, Berkeley School of Law (Boalt Hall), J.D., 1976
Stanford University, A.B. in Political Science, 1971
Recognition & Honors
Recognition & Honors
Top-Rated Lawyer, West Coast, National Law Journal (2017)
Mentor of the Year, King County Bar Association Young Lawyers Division (2010)
AV rated by Martindale-Hubbell Peer Review
Representative Work
Representative Work
Real Estate Experience
Represented sellers and purchasers of downtown office buildings, hotels, shopping centers, industrial parks, warehouse and storage facilities, and apartment buildings.
Closed numerous loans for real estate purchasers/borrowers, including conventional and securitized ("conduit") loans.
Represented institutional lenders making construction loans and permanent loans.
Represented owners, property managers and tenants negotiating numerous commercial leases.
Represented condominium and homeowners associations.
Represented developers of condominium projects, including residential high-rise, medical office building, planned unit developments, and multi-use facilities.
Handled numerous IRC § 1031 tax-deferred exchanges.
Commercial Litigation
Argued the prevailing party's case to the Washington Supreme Court in Berg v. Hudesman, 115 Wn.2d 657 (1990). This unanimous decision is considered the seminal case in contract interpretation in the state of Washington. The client prevailed on the remand to the trial court.
Successfully defended the late Governor Dixy Lee Ray at trial against claims of her former speech writer that he wrote her 1991 book Trashing the Planet.
Served as the arbitrator in Boyd v. Davis, 127 Wn.2d 256 (1995). This unanimous Supreme Court decision upheld the exercise of powers as arbitrator and reduced the grounds on which an arbitrator's decision may be challenged or set aside.
Conducted over 125 trials and arbitrations, primarily in the real estate or commercial context, including a five-week jury trial.
Member (ret.) of American Arbitration Association Panel of Arbitrators. Selected in 1998 to serve on a national panel of arbitrators to handle appeals arising from class action settlement in claims against Prudential Life Insurance Company. Handled approximately 85 appeals from the settlement.
Publications & Presentations
Publications & Presentations
Mike is a frequent speaker on real estate topics. He has addressed two annual meetings of the American Bar Association, Real Property, Probate and Trust Section, and made presentations at local seminars on purchases and sales, financing and leasing. Recent publications and presentations include:
"Real Estate Contracts Boot Camp," presenter, webcast hosted by the National Business Institute (June 2018)
"Problems at Closing: Moving Past Difficulties and Sidestepping Malpractice Claims" and "Quiet Title Actions," presenter, National Business Institute CLE Title Law: A to Z (December 2017)
"Commercial Real Estate Leasing 101," panelist, National Business Institute webcast (September 2017)
"Real Estate Financing for Commercial Transactions," panelist, National Business Institute Commercial Real Estate Financing webcast (November 2016)
"Alternative Dispute Resolution (ADR) and the Appraiser's Role," panelist, Fall Real Estate Conference, Seattle Chapter of the Appraisal Institute (October 2016)
"Financing Options: Ensuring Proper Choices," panelist, National Business Institute Commercial Real Estate Financing webcast (June 2016)
"Anticipating and Negotiating Financial, Business and Legal Issues," panelist, National Business Institute Commercial Real Estate Financing webcast (June 2016)
"Ethics in Business Law Transactions," co-presenter with Olivia Gonzalez, WSBA Business Law Section Mid-Year CLE (May 2016)
"Construction Project Financing A to Z," presenter, National Business Institute webcast (April 2016)
"The Construction Lending Process," co-presenter with Whitney Hicks, So This Is What's Developing With Real Estate Development! WSBA Real Property, Probate and Trust Section (April 2016)
"Real Estate Closings From Start to Finish," presenter, National Business Institute webcast (April 2016)
"Legal Descriptions" and "Surveying Skills for the Real Estate Attorney," presenter, National Business Institute seminar (July 2015)
"Financing Options: Ensuring Proper Choices," panelist, Commercial Real Estate Financing webcast (June 2015)
"Anticipating and Negotiating Financial, Business and Legal Issues," panelist, Commercial Real Estate Financing webcast (June 2015)
"Leases: Dealing with Insurance, Indemnification, and Subrogation," presenter, The 2015 Real Property, Probate and Trust Section Midyear Meeting and Conference presented by the Washington State Bar Association (June 2015)
"A Thoughtful Approach in Contract Negotiations: Ethical Business Dealings in the Context of the RPC's," panelist, Contracts In and Out of the Courtroom: When Bad Things Happen to Good Contracts presented by the King County Bar Association (June 2015)
"Real Estate Closings From Start to Finish," panelist, National Business Institute webinar (May 2015)
"Don't Make Them Eat Soup: Of Seattle's Minimum Wage, the Supremes and Henry Ford," Author, KCBA Bar Bulletin (December 2014)
"Negotiating and Disputing Common Area Maintenance Charges," Presenter, National Business Institute live teleconference (December 2014)
"Purchase & Sale Transaction Forms for the Commercial Real Estate Practitioner," Co-presenter with Sean Griffee, Commercial Brokers Association (September 2014)
"Financing Options: Ensuring Proper Choices" and "Anticipating and Negotiating Financial, Business and Legal Issues," Presenter, National Business Institute's "Commercial Real Estate Financing" (September 2014)
"Commercial Real Estate From A to Z," Presenter, National Business Institute webinar (August 2014)
"Purchase & Sale Transaction Forms for the Commercial Real Estate Practitioner," Presenter, Commercial Brokers Association (February 2014)
"Initial Considerations" and "Legal Remedies and Rights: Owner and Seller Strategies for Resolving the Dispute," Presenter, Resolving Commercial Real Estate Contract Disputes presented by the National Business Institute (January 2014)
Professional & Community Activities
Professional & Community Activities
Member, Education & Programs Committee of the Commercial Brokers Association
Member, Real Property Section of the Washington, Hawai'i and King County Bar Associations
Certified Real Estate Instructor (Washington State Department of Licensing)
Moot Court Judge, University of Washington School of Law
Director (1991-present) and President (1994-1997 and 2005-2008), Queen Anne Helpline