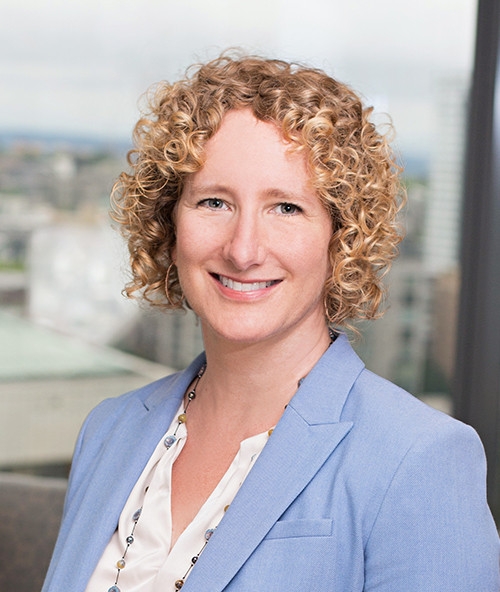 Lori Rath
Of Counsel | Seattle
---
Overview
Lori counsels individuals and families on all aspects of estate planning, including estate and income tax minimization strategies, charitable giving, lifetime wealth transfers and gift tax matters, property ownership characterization issues, and agreements for both married and unmarried clients.
Lori also routinely represents individual and corporate fiduciaries in trust administration and probate cases that present complex issues related to asset valuation, estate and income taxation, business concerns and sales, and commercial and residential real estate holdings.
Trust and estate matters sometimes involve disputes among various parties or necessitate corrective modifications. In such cases, Lori serves as legal counsel to beneficiaries or other parties involved in mediation or another dispute resolution process within which agreement is sought, often under Washington's TEDRA (Trust and Estate Dispute Resolution Act) law.
Education & Admissions
Admissions
Education
University of Washington School of Law, J.D. (1999)
Glasgow University, Centre for the Study of Literature & Religion , Post-graduate study (1993 - 1994)
University of Iowa, B.A., with distinction, Theology & Ethics (1993)
Recognition & Honors
Recognition & Honors
Best Lawyers in America in Trusts and Estates (2019)
Top 100 Lawyers, Washington Super Lawyers (2016 - 2018)
Top 50 Women Lawyers, Washington Super Lawyers (2015 - 2018)
Washington Super Lawyers (2014 - 2018)
Rising Star, Washington Super Lawyers (2010 - 2011)
Recipient of Washington State Bar Association Community Service Award (2008)
Representative Work
Representative Work
Negotiated and drafted agreement for academic scholarship program at client's alma mater which included coordinating with university foundation and third party professional trustee.
Created a charitable remainder annuity trust to achieve clients' goals of minimizing estate taxes, supporting their local community foundation and providing an income stream to fund life insurance policy.
Served as court-appointed guardian ad litem for three minor trust beneficiaries when another family member contested the trust; matter successfully resolved in mediation.
Represented executors in multiple probates involving settling decedents' estates many years after death, necessitating complex valuation and trust funding techniques.
Publications & Presentations
Publications & Presentations
"Property Characterization Issues in Probate," speaker, 14th Annual Probate Administration, KCBA continuing legal education seminar (November 2018)
"Five Succession Tips for Private Family Businesses," co-author, article, Puget Sound Business Journal (March 2015)
"Where to Live and Where to Die—A Tax Perspective," co-author, article, WSBA Real Property, Probate and Trust Section Newsletter (Winter 2014 - 2015)
"Probate & Trust Administration Fundamentals: Effective Representation of Estates, Personal Representatives and Trustees," co-chair and speaker, WSBA Continuing Legal Education seminar (August 2013)
"Estate Planning for Seniors," author, chapter in Legal Voice's Legal Handbook for Seniors (2012)
"Estate Planning Lessons Learned from the Estates of the Rich & Famous," speaker, NBI Continuing Legal Education (December 2012)
"Estate Planning: Fundamentals, Forms and Ethics," co-chair and speaker, WSBA Continuing Legal Education seminar (August 2011 & August 2012)
"Understanding Washington's New Domestic Partnership Act," presenter, Edward Jones Seminar (February 2010)
"Ethics and Estate Planning," presenter, National Business Institute Seminar (May 2008 & December 2008)
Professional & Community Activities
Professional & Community Activities
Seattle Estate Planning Council Executive Committee (May 2018 - present)
Completion of Women's Negotiation Academy, Straus Institute for Dispute Resolution at Pepperdine University School of Law (December 2016)
University of Washington School of Law Graduate Program in Taxation, Adjunct Professor (2013 - 2015)
Seattle University Planned Giving Committee, Member (2014 - 2019)
Seattle Foundation Professional Advisors Council, Member
Estate Planning Council of Seattle, Member
Seattle Children's Hospital Legacy Council, Member
WSBA Real Property Probate & Trust Section and Taxation Section, Member
Seattle Audubon Society, Legal Advisor (2009 - 2012)
People's Memorial Association & Funeral Co-op, Board Member (2009 - 2012)
Casa Latina, Board Member (2002 - 2009)
Background & Interests
Background & Interests
Lori loves riding her bike on country roads, bird watching in urban areas, and spending time with her family.