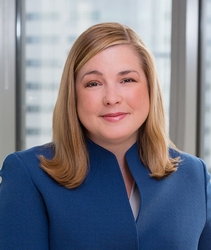 Erin G. Howshar
Of Counsel | Seattle
---
Overview
Erin has a national practice focusing on real estate, financing, business and corporate law. She has advised clients on real estate financing transactions that span billions of dollars in secured and unsecured debt facilities. She is experienced with term and revolving loan facilities, private placement debt facilities, mezzanine debt financings, and securitized loans. She works on acquisition and construction debt for new properties, financing of existing properties, loan workouts, and restructuring existing debt.
Erin's full-service real estate practice includes purchase and sale agreements for commercial properties, development and construction-related agreements, joint venture agreements, property management agreements, listing agreements, and complex commercial leases. She has achieved accreditation from the U.S. Green Building Council (USGBC) as a LEED Green Associate in connection with sustainable development and operation of real estate projects. The LEED rating system is the nationally accepted benchmark for the design, construction and operation of high-performing green buildings.
In her business and corporate practice, Erin negotiates and drafts a broad range of contracts, including asset purchase and sale agreements, assignments, commercial licenses, employment and severance agreements, and management agreements. Whether she is negotiating a debt facility or working on the purchase or sale of a commercial property or a new business, Erin understands that clients want practical solutions to their issues.
Erin frequently presents legal education seminars on topics such as purchase and sale agreements, title matters, leasing, and loan workouts.
Education & Admissions
Admissions
Washington, 2000
Wyoming, 1998
Education
Washington University School of Law, J.D. (1998)
St. Louis University, B.A., magna cum laude (1995)
Recognition & Honors
Recognition & Honors
Selected by Washington Law & Politics as a Rising Star (2006–2010, 2012–2014)
Washington University School of Law, Scholars in Law Award
Seattle Yacht Club, Betty Meacham Service Award
Representative Work
Representative Work
Two private placement debt facilities of $300 Million each for real estate investment trust
Joint venture development of $320 Million condominium project in Seattle
Acquisition of $32 Million apartment project in Maryland
Restructuring of a joint venture which owns a portfolio of multi-family assets located in Seattle, San Francisco and Chicago, with an aggregate valuation of approximately $1 Billion. This restructure involved a U.S. real estate investment trust (REIT) and a foreign pension fund.
Secured mortgage loan of $95 Million for retail shopping center in Los Angeles, California
Unsecured revolving loan of $200 Million for real estate investment trust
Publications & Presentations
Publications & Presentations
NBI Seminars, Endorsements and Exclusions to Policies, and Negotiating Title Insurance Endorsements (December 2017)
NBI Seminar, Advanced Real Estate Transactions, Purchase Contract Negotiation (August 2017)
Client Seminar, Mechanic's Liens and Title Insurance (March 2017)
NBI Seminar, Commercial Real Estate from A to Z, Purchase and Sale Agreements (August 2016)
NBI Seminar, Title Law from Start to Finish, Exceptions and Proper Usage of Endorsements and Title Search and Examination Fundamentals (May 2016)
NBI Seminar, Troubleshooting Construction Project Legal Issues, Delays, Acceleration and Stopped Work (April 2016)
NBI Seminar, Workouts, Toolbox for Working Out Troubled Real Estate Loans (November 2015)
Professional & Community Activities
Professional & Community Activities
Member Commercial Real Estate Women (Seattle and Sound)
Attorney mentor/coach for Mercer Island High School Mock Trial team
Member Seattle Yacht Club
Background & Interests
Background & Interests
In her spare time, Erin is an avid power boater and enjoys cruising in the San Juans and Canadian Gulf Islands. During the winter months, she spends time skiing and building snowmen and igloos.